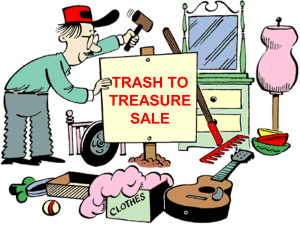 2019 TRASH TO TREASURE SALE & LUNCH
"One Person's Trash is Another's Treasure"
Friday, April 5th, 9:00 a.m. – 4:00 p.m.
Saturday, April 6th, 9 a.m. – 2:00 p.m. $5 Bag Sale ALL DAY!
Women's Fellowship is sponsoring the Trash to Treasure Sale. Donating your unwanted household items to our church rummage sale will allow Women's Fellowship to continue to support the needs of the church. Come to the Trash to Treasure Sale to shop, find treasures, volunteer your time, and have lunch or dinner. We're serving sloppy joes, homemade chicken noodle soup, homemade potato soup, hot dogs, and pie. We sell soup by the quart also. It's a fun time, don't miss it!
DONATE YOUR HOUSEHOLD ITEMS – GO GREEN – REUSE!
Donations are accepted year round for this sale. If you still have items to drop off now is the time to do so. Please bring all items for donation to the church by
Monday, April 1

st
.
DONATIONS ACCEPTED:
Clothing, shoes, kitchen items, bedding, baby clothes, toys, books, records, CD's, tapes, DVD's, jewelry, small working electronics, tools, women's accessories, collectibles, antiques, sports equipment, linens, small furniture items, nick-knacks.
DONATIONS NOT ACCEPTED:
Hide-a-beds, mattresses, box springs, artificial Christmas trees, bunk beds, water beds, pull-out sofas, paint, chemicals, car seats, exercise equipment, TV's, computers, curtain rods, car tires, or appliances.
** If you have larger items you want to donate please contact Sheri Wohlers 651-731-2717, sherileewohlers@gmail.com. If large items don't sell we will ask you to take them back so we are not responsible for disposal costs. If you bring electronics or anything that plugs in, please put a note on it that tells if it works and also any operating instructions if it is something complicated. Thank you!