The PreK/Kindergarten
classes use the Gospel Light curriculum while incorporating flannel boards, games and activities. Each Sunday we end our class time with a prayer circle and recite the Lord's Prayer. Working with young children we strive to make these first experiences at Kidz Ministry a positive fun, loving and comfortable place to be. We learn about the Bible but also enjoy play-do, puzzles, books, art, music and one another in a group setting.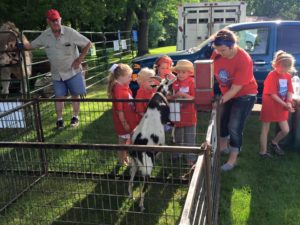 The 1st through 5th grade classes are divided into 2 classes of 1st-3rd and 4th-5th and are all taught using the Deep Blue Bible and the accompanying age appropriate curriculum. Each week we study a scripture from the curriculum using the bible, crafts, reading stories, playing games, reading and acting out plays and watching videos. We build upon the ideas that Pastor Bryan preaches about in his sermons.

The 6th through 7th grades
currently use The Message Bible and the Witness middle School Curriculum. We focus on reading the Bible and trying to put the stories into present context in how to lead our lives today. However, we often take time during class to discuss what happens during church services, the history and biblical background of church holidays (like Ash Wednesday and Maundy Thursday), favorite Bible stories or just something a young person wants to get ideas about or share in the context of their growing faith. Our class has chosen our classroom guiding standards to be trust and respect so our classroom can be a positive place.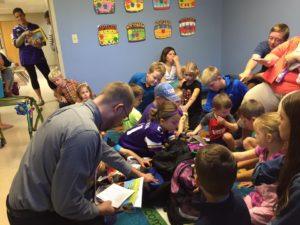 Blessing of the Back to School Backpacks!
We also incorporate
Music
into our education by having music almost every week. We have a music coordinator who works with the children to teach them joyous music that often have fun dances or hand movements as well! The children share their music with the congregation a few times a year as well as sing for our Christmas pageant each year.