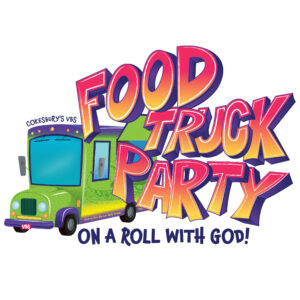 Vacation Bible School is returning to Cottage Grove UCC this summer!
Ready to cook up some fun? Food Truck Party VBS invites children of all ages to get on a roll with God as a parade of Food Trucks rolls into their neighborhood for the summer's biggest party!
Jesus teaches us in Matthew 6:11; "Give us this day our daily bread." These words serve as a reminder that everything we have comes from God — and that it's by turning to God in prayer that all of our daily needs are met. Through stories in the Bible, we will discover the countless ways God provides, loves, and cares for us while inviting us to join God in providing , loving, and caring for others.
The goal of this VBS is to help children build on the practice of using daily prayer to turn to God for their needs — and also to serve as the hands of God in ensuring that the needs of others are met.
Food Truck Party VBS will be July 18-21, 2022, from 5:30-7:30 pm.
Join in the fun as we sing great songs, do creative crafts, eat yummy snacks, play awesome games, and more!
Thanks to some generous donors, all registration fees have been covered, so register your child/children or grandchild/grandchildren for VBS today!
All VBS participants will receive a FREE t-shirt as well as a music CD (one per household) to listen to and enjoy at home.
We look forward to having your child(ren) be a part of Food Truck Party VBS this summer. Please invite your friends and neighbors to be a part of the fun as well. All are welcome!